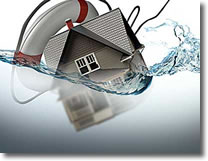 If you can't afford your mortgage payment and it's time for you to transition to more affordable housing, the Home Affordable Foreclosure AlternativesSM (HAFA) program is designed for you. HAFA provides two options for transitioning out of your mortgage: a short sale or a Deed-in-Lieu (DIL) of foreclosure. In a short sale, the mortgage company lets you sell your house for an amount that falls "short" of the amount you still owe. In a DIL, the mortgage company lets you give the title back, transferring ownership back to them. Click here to view the Short Sale Process, Steps and Description.
Douglas Lagos is a Realtor® Certified HAFA Specialist.
Contact Douglas for free assistance, and no cost to homeowners, that qualify for the Federal Programs; and other options available to you. Fill out the contact form below.
In either case, HAFA offers benefits that make the transition as favorable as possible:
You can get free advice from HUD-approved housing counselors and licensed real estate professionals.
Unlike conventional short sales, a HAFA short sale completely releases you from your mortgage debt after selling the property. This means you will no longer be responsible for the amount that falls "short" of the amount you still owe. The deficiency is guaranteed to be waived by the servicer.
In a HAFA short sale, your mortgage company works with you to determine an acceptable sale price.
HAFA has a less negative effect on your credit score than foreclosure or conventional short sales.
When you close, HAFA may provide $3,000 in relocation assistance
Making Home Affordable has been extended!  In an effort to enable more struggling homeowners to take advantage of the Making Home Affordable Program ®, HAFA has extended the application deadline of the program to December 31, 2013
Act now. Don't delay.
Making Home Affordable has real help to offer, but you must contact your mortgage company or licensed real estate professional to take action. The sooner you do, the sooner you can get on the road to financial recovery. Not taking action can only make things worse. Remember, many Americans have taken the first step towards modifying or refinancing their mortgages, and so should you if you are having trouble making your mortgage payments. There is help available.
GLOSSARY
Deed: a document that legally transfers ownership of property from one person to another. The deed is recorded on public record with the property description and the owner's signature. Also known as the title.

Deed-in-lieu of foreclosure: the process by which a homeowner may voluntarily transfer the deed to a home to the servicer when payments cannot be made.

Servicer: a firm that works on behalf of the lender in support of a mortgage, including collecting mortgage payments, ensuring payment of taxes and insurance, managing escrow accounts, managing communications with the homeowner, and loss mitigation or foreclosure when necessary.

Short Sale: when the servicer allows the homeowner to list and sell the mortgaged property with the understanding that the net proceeds from the sale may be less than the total amount due on the first mortgage.