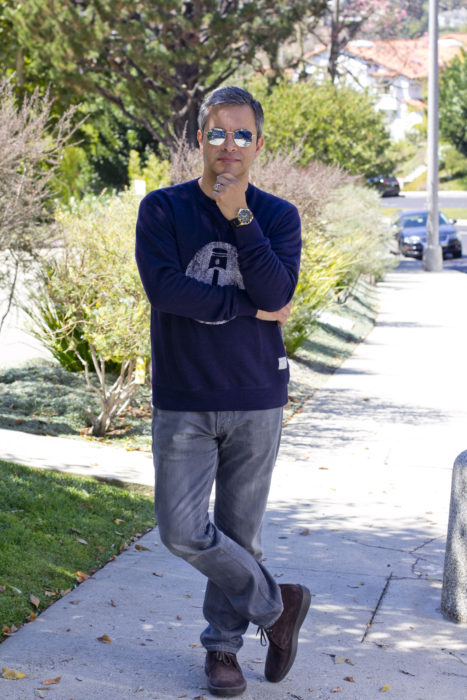 Time flies when you're having fun styling great pieces of clothing. You already know that I don't always wear accessories, but when I got my hands on this great looking watch from Kyboe; I just had to get my clothing styles ready for the weekend.
So, like many I looked at all my pieces in my closet and realized that I had no idea what I wanted to do. I felt lost and in awe in this 40 SF space, just like an astronaut in the deep void of space! Ha, ha, ha, not really! Living with @RossanaVanoni I've learned that you always start with one piece of apparel or accessory and build up from that.
Thus, I took my black & gold Kyboe watch (by the way, that's also one of my favorite songs from a few years back (Sam Sparrow – Black & Gold). I started with a dark colored sweater from Iron & Resin, went to my go-to gray slim jeans from Levi's, and finished it off with brown colored suede boots from Banana Republic, and finished it off with these new (to me) Ray Ban sunglasses. This outfit is easy on the eyes and comfortable as heck, and ready to go for hanging out with the guys, to taking your lady out at night! And, that's great for me, 'cause with @RossanaVanoni, sometimes, I can't keep a tab on all her appointments and events – so I gots to be ready on a dime's call.
Shop My Style below.