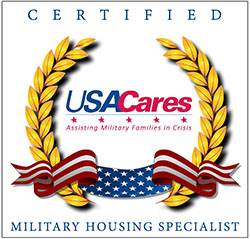 Military Relocation Assistance
Got your orders for your new base. Now what? I served in the US Air Force, and I know the feeling and excitement when you get your orders to relocate to a new base. I was transfered throughout bases in Texas, to Mississippi, and Washington State. So, I understand first hand all that's required, and how little time you have.
I can help to make that military move so much smoother, whether you're moving across the city, county or to another State. Douglas Lagos can assist you, from coordinating with a moving company, to finding that perfect home or rental place in the neighborhood you desire. Just contact me and I can get the wheels running. Click here for  additional information on VA Home Loans.
Learn more about USA Cares Organization, and check my certified military housing specialist information.
Call me, text, email, or fill-out the form below, and I'll get professionals to help make your move the best, and stress free. I am also certified as a Military Housing Specialist.