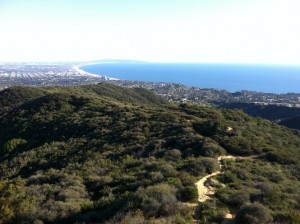 Temescal Gateway Park – Temescal Canyon hiking trails
Located in Pacific Palisades, Temescal Gateway Park is one of the most popular parks in the Santa Monica Mountains. The park encompasses 141 acres of oak and sycamore canyons, ridgetop views, and access to miles of trails in Topanga State Park, Will Rogers State Historic Park, and the 20,000-acre "Big Wild."
Temescal Gateway Park Amenities
Park amenities include easy to moderate trails, picnic tables and grassy areas, restrooms, a camp store, meeting rooms, an auditorium, and classrooms. Many educational and outreach programs are held at Temescal for children throughout the City, including the Temescal Outdoor Education Program (see below). The Temescal Canyon Conference and Retreat Center provides overnight accommodations for up to 100 people, and the architecturally distinctive Temescal Dining Hall serves as a beautiful location for events of all kinds.
The Reverend Dr. Charles Holmes Scott developed what is now Temescal Gateway Park for the Methodist Church in 1922 as a West Coast center for the Chautauqua movement. Originated in 1874 on the shores of Chautauqua Lake in Southwestern New York State, Chautauqua assemblies were aimed at challenging the minds and spirits of its participants by offering families seasonal programs of lectures, music, elocution, and open discussion of public issues, literature, and science. Some of the canyon's earliest structures are still in use. Built in 1922, the building known as the Temescal Camp Store was two buildings– a grocery store complete with a butcher shop, and the local post office. The Presbyterian Synod purchased the property in 1943 and used it as a private retreat center until the Santa Monica Mountains Conservancy purchased the property in 1994.
Temescal Outdoor Education Program
The Temescal Outdoor Education Program is dedicated to bringing enriching, hands-on outdoor experiences to Los Angeles' under-served, urban youth. Many of the students who attend our program have never had the opportunity to smell the scent of a blooming wildflower, to watch a deer jump gracefully through a meadow, to gaze up at a star-filled sky, or to roast a marshmallow over an open campfire. Experiences like these expand students' perspectives of the world and can profoundly impact the course of their lives.
The park's committment and professional naturalists lead students on a three-day/two-night hands-on science program that aligns with the California State Science Content Standards.
Customized day and overnight programs are also available.
For more information contact the MRCA Outdoor Education Program or call (818) 878-0866, ext. 228
Directions: Temescal Gateway Park is located in Pacific Palisades, one mile north of Pacific Coast Highway at the intersection of Temescal Canyon Road and Sunset Boulevard.
From Los Angeles, take the Santa Monica Freeway (10) West until it becomes Pacific Coast Highway(PCH). Continue West on PCH. Turn right (North) on Temescal Canyon Road and continue for 1 mile. You enter the park immediately after crossing Sunset Boulevard.
From the San Fernando Valley, take Topanga Canyon Boulevard South to Pacific Coast highway(PCH). Turn left (East) on PCH. Go Left (North) on Temescal Canyon Road and continue for 1 mile.
Parking: Ample parking is available at the park entrance for $7.00 per day.
Address: 15601 Sunset Blvd., Pacific Palisades
Phone: (310) 454-1395
Trail map guide for the Temescal Gateway Park.