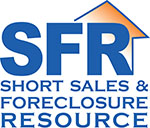 Douglas Lagos is a recognized Short Sales and Foreclosure (SFR) real estate agent by the National Association of Realtors, and the California Association of Realtors. Knowing how to help sellers maneuver the complexities of short sales as well as help buyers pursue short sale and foreclosure opportunities are not merely good skills for an agent to have in today's market — they are critical. Click here to view the Short Sale Process, Steps and Description.
Short Sales and Foreclosure Resource SFR Certification
Remember that you are not alone. More than 15 million Americans are currently facing mortgage default, are unemployed, or both. I am here to help you, I am a Short Sales and Foreclosure Resource real estate agent. Contact me today for a complimentary and confidential consultation, and let me assist you in understanding the exit strategy or retention options available to you and your family.
Has a hardship caused you to miss one or more mortgage payments?
Has a Notice of Intent/Foreclosure been filed?
Do you want to save your home or need help in doing a Short Sale?
Can you resume payments, but will be using your savings to pay the mortgage?
Short Sales and Foreclosure Agent
I understand the current US distressed housing market and am knowledgeable on servicing the Treasury's Home Affordable Foreclosure Alternative (HAFA) program.
I have full understanding of how Fannie Mae and Freddie Mac HAFA programs are different from the corporate bank versions of a short sale program.
Making Home Affordable (MHA) Programs available under Short Sales and Foreclosure alternative
Contact me today, I can help! There is absolutely no cost to you to have me represent you in any of the above foreclosure prevention programs.
Foreclosure is not the only option. Your credit score will take a lesser hit when properly doing a short sale, and the homeowner will get relocation money. From a minimum of $3,000 under HAFA, to as much as $40,000 under other banks. All at no cost to you. Avoid short sales and foreclosure scams. My services are free of charge to all homeowners, since the Federal Government and the banks pay for my commission!
Buyer opportunities with a certified short sales and foreclosure resource (SFR)
If you are a buyer, I can guide you in searching for the right, whether a short sale or foreclosure, and avoid delays and wasted months negotiating from the get go! I am certified by the National Association of Realtors as a Short Sales and Foreclosure Resource (SFR).