Is this Father's Day going to be different from last year? I mean, are you getting your gifts ready in time, or are you procrastinating until the last few days? To make it easier for you, I've come up with some amazing, awesome, aspiring and absolutely gnarly list of products in this Father's Day gift guide.
What's different about me is, I'm not gonna tell you what not to get. I'm gonna gonna tell you what to get, as these are products that I have used and tested myself. Some are one of a kind, and some are so great that your dad is gonna really be proud of you! Yeah, you'd like that, wouldn't ya! Giving something to your dad that he will really, really, really use and like time and time again.
So, let's get started 'cause you'll have a week to get them, and make papa proud; start taking note of this Father's Day gift guide.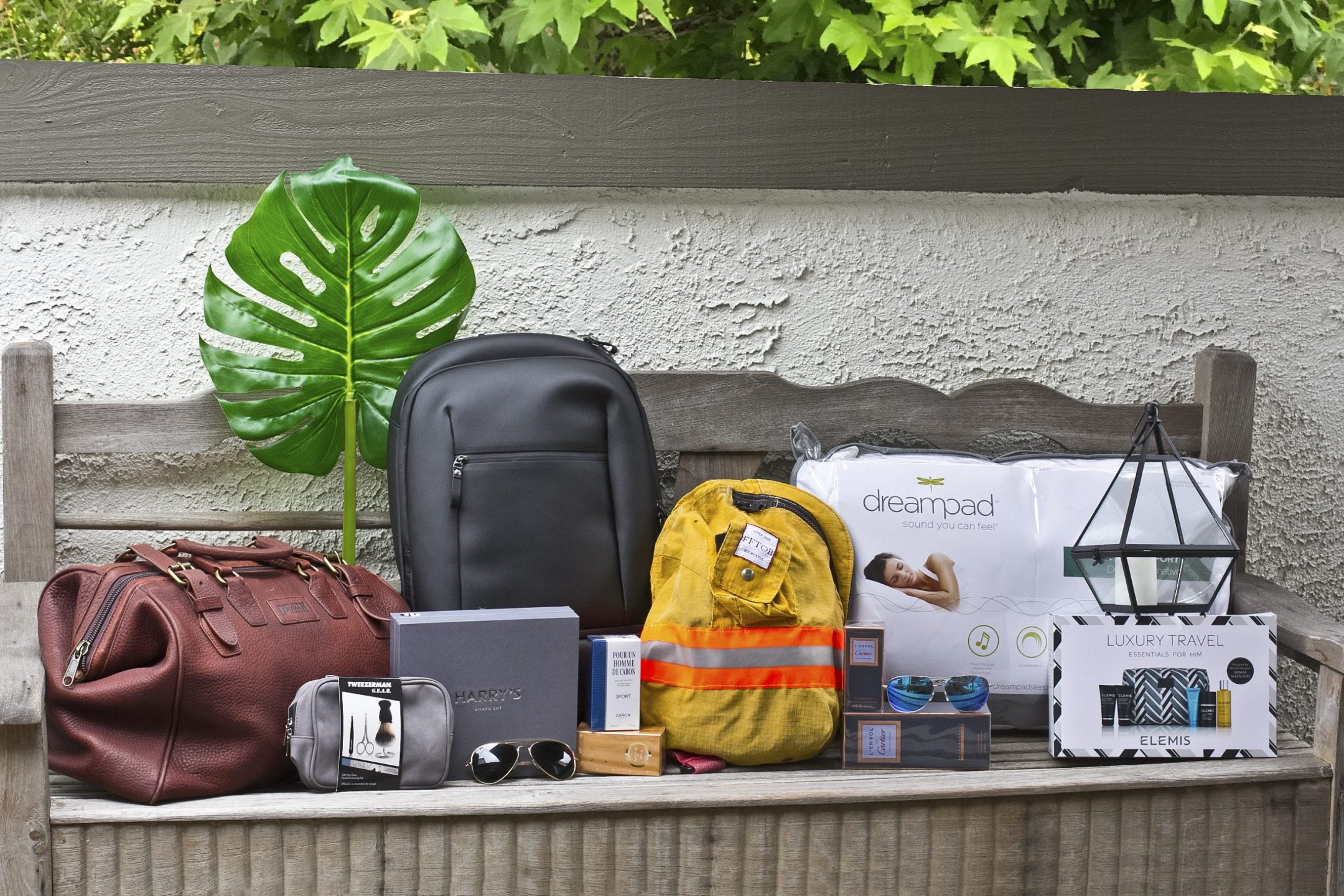 Now, whether you get dad all or one of the products from the list, I guarantee you that dad will be proud of you. Why? 'Cause these are no ordinary, run of the mill, gifts. So, let's get started
You and I both know that dad needs bags. Small bags, backpacks, or a weekender bag. Do I have you covered.
The Probie SCBA Bag. This bag is the SCBA pocket that is stitched to many firefighter coats. This cross body style bag comes with a radio pocket on the front for an extra compartment that fits most water bottles perfectly, and it's recycled from real firefighter suits! So, it's like a 2-fer.  No two bags are the same. How about that for exclusivity. Use code fftobshop10 for 10% discount.
The Vessel Signature Backpack in Black Pebbled. Great for the office or the trip across the country, this backpack has pockets just about everywhere for just about anything. Now, what's awesome about Vessel Bags is that with every bag purchased, Vessel gives a school backpack to a child in need. And every bag has a unique ID number inside. The ID corresponds to the number of backpacks that have been given to help children around the globe since you purchased that bag. Cool, right!
Duluth Trading Co., AWOL weekender bag. This is my favorite weekender bag. I swear by it. The leather AWOL bag is like the one your grandad carried when the Army shipped him overseas in 1943. Most servicemen had a similar bag to hold their "necessaries." They jokingly called it their "AWOL bag," and kept it packed for sudden deployments and weekend liberties. I've used it every time that I've gone on short trips, like San Diego, Scottsdale, AZ, and Coachella. You can read about those trips here, here and here. So, It's great looking, and your dad will look real cool strolling with one in hand.
Now, unto beauty stuff for dad. We want to make sure dad's always looking and smelling his best. And here are the essentials that I use daily. Believe you me, these are no harsh or foul smelling products that double as a car wash. These are top of the line, quality products to keep dad looking young, smoother face, and smelling awesome for Father's Day.
Elemis, Luxury Travel Essential for Him. I've talked about Elemis before, here. This is what I use almost on a daily routine. More about that here. If you know beauty, you know Elemis, and if you know Elemis – What the heck? Elemis is manly good stuff, period! In this luxury travel essential for him you get Skin Soothe Shave Gel, Deep Cleanse Facial Wash, Daily Moisture Boost, Sharp Shower Body Wash, and and Instant Refreshing Gel for sore muscle aches.
Cartier L'Envol cologne and Cartier L'Envol Perfumed Grooming Oil. L'Envol is one of my favorite colognes. It's not too strong, not too sweet, it's just right. The perfuming face and beard oil softens skin, disciplines tangled hair and provides a neat look. Its light texture combines with an addictive fragrance with notes from L'Envol de Cartier Eau de Parfum. It instantly brings comfort and smoothness to the face, even during hair regrowth. The oil offers a fresh way to start each day.
Pour Un Homme De Caron – Sport. This is one of my newest favorites. It has sparkling, fresh top notes of citrusy grapefruit, green mandarin from Italy and Indian verbena, which meld with Absolute of green Lavender from France, like the original Pour Un Homme. By the way, the cameras next to the bottle are from my 16mm collection, and about 3 inches long!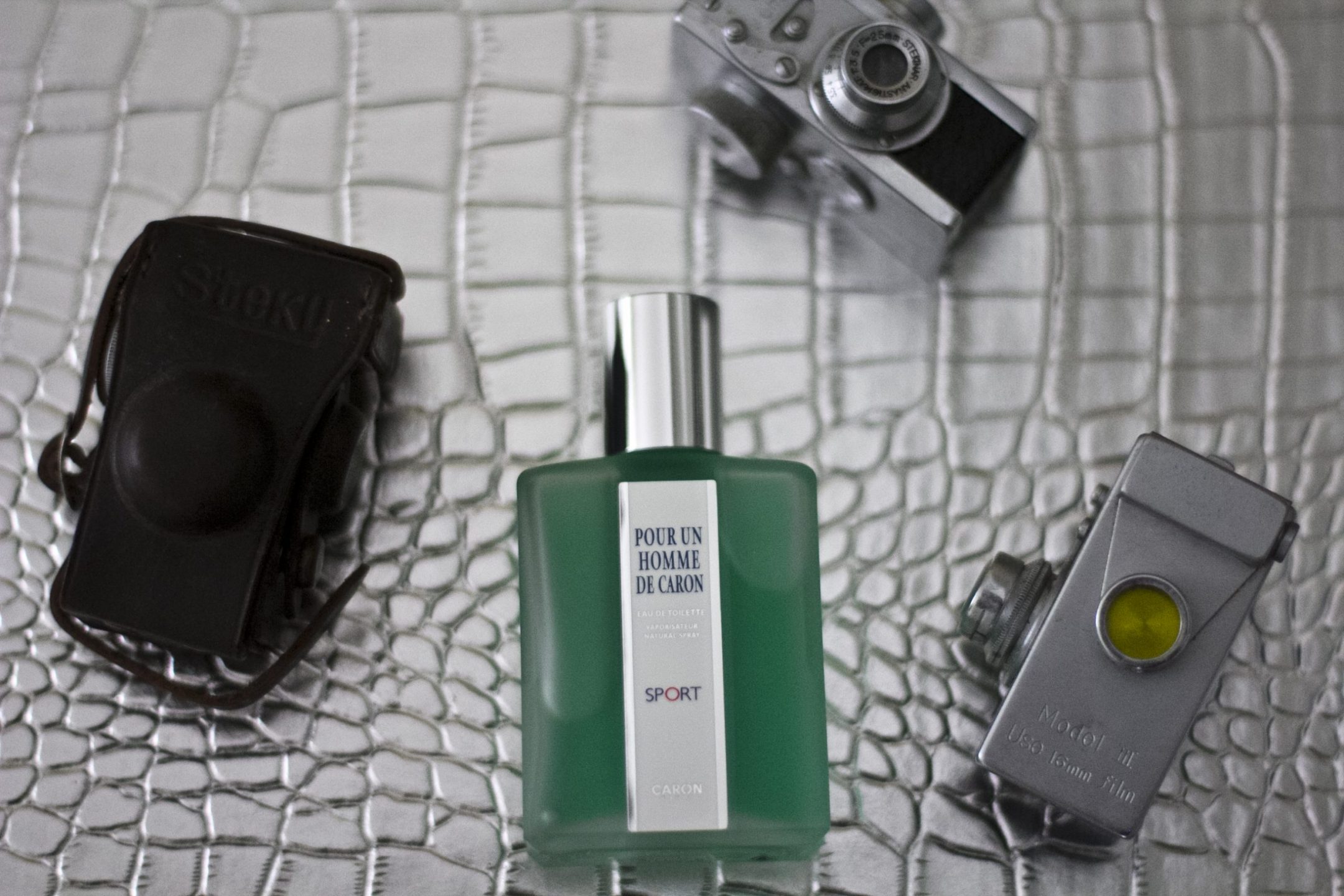 Now, we continue with our Father's Day gift guide for the real day to day essentials that we men have. I'm gonna take you unto the shaving section of this post.
Tweezerman G.E.A.R. Facial Grooming Set. Most women know Tweezerman, and most guys in the know also know Tweezerman. Now it's time to get dad hooked unto great products from their men's collection. This set includes the slant tweezers, high quality facial hair scissors, a deluxe shaving brush with stand, and a faux-suede grey cosmetic case.

Harry's Shave Set. This one comes with 3 cartridges, a razor and stand, shave gel, and a gift set box all ready to wrap! I use Harry's when on trips and need a quick shave, 'cause I've had trouble getting on planes with my straight razor – no joke. I'm a straight razor shaving guy, but there are times when you can't take one with you, or you need a fast shave, and that's where Harry's comes in quite handy.

Braun 9290cc Wet & Dry Shaver. Now, if you want dad to get a shave almost as close as a straight razor, you need a Braun 9290. This is one, if not the one, of the best electric shavers in the market. Period! And, remember this is coming from a guy that uses a straight razor to shave. Like I've said before, nothing wrong with a good cartridge razor, an electric razor, a straight razor, or even a beard trimmer. There are guys that prefer one over the other. And even then, there are times that I will personally go from one to the other depending on my needs – i.e. Usually time constraints. This Braun, is hands down, the best electric shaver I've owned for the closeness it provides when shaving.
And now we're getting to the comfort zone. I'm talking about specs, shades, sunnies, or as dad knows – sunglasses. If your dad is like most dads, handsome, rugged and loving; he'll enjoy aviator type sunnies. We'll I've got ya covered on that.
Ray Ban Aviators. Currently one of the most iconic sunglasses models in the world. The Ray Ban Aviator Classic sunglasses were originally designed for U.S. aviators in 1937. Check out my looks and you'll usually notice me wearing Ray Bans or Maui Jim.
Maui Jim Cliff House. Not to be outdone, but Maui Jim has great craftsmanship, and they'll go toe to toe with just about anybody. I guarantee it. Like I wrote above, I love Ray Ban and Maui Jim so much, that I sometimes have to flip a coin before going out, to see which brand I'll wear. Yeah, it's like that!

Of course, we know how much dad loves to take a nap or rest. Yeah, it's the years of taking care of us, working hard and making sure we've had everything we've needed. We'll, here's another chance to start repaying for that labor of love, and do it in style!
The Dreampad, from Integrated Listening Systems. This is a therapeutic pillow which reduces stress and improves sleep. It uses a patented technology to play music through gentle vibration, a process which triggers the nervous system's relaxation response. It is equally effective for all ages, and particularly helpful for those experiencing stress, hyper-arousal, anxiety and auditory sensitivity. An additional benefit of the Dreampad is that only the user can hear the music (so mom, won't be angry at us for giving this great gift to dad!). I just hook up my iPhone to the included cable, put on my favorite playlist, and off to sweet dreaming I go. I like it so much, that I will usually take it downstairs to the living room, put it under my head while reading GQ, and within minutes, I'm dozing off. I tell you, I've owned regular pillows, feather pillows, goose-down pillows, and memory support pillows. This Dreampad Firm Support pillow is so far, the best I've had. If memory serves me right (ha, ha sounding like dad) it's probably better than most 5-Star hotels that I've been in, it's that good.
As always, get inspired and let's make this Father's Day Gift Guide the best ever – or until next year, anyway. Let me know in the comments below what you'll get for your dad. Hope you've enjoyed this post, and please don't forget to follow me on Instagram.
SHOP MY FATHER'S DAY GIFT GUIDE